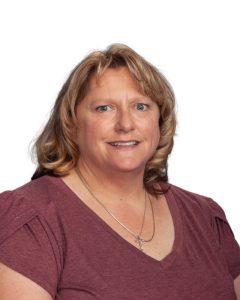 Amy Stimac
I am Amy Stimac and I am the Kindergarten teacher here at St. Robert.  Before coming back to SRS, this time as a teacher, I taught several years in Flint.  I taught in all grades, K-6, with a majority of time spent in lower elementary and several years in Kindergarten.
After leaving SRS as a student, I attended Powers Catholic High School then moving to Aquinas College where I received my bachelors degree in English.  Later I received my Masters degree in Reading in 2006 from Walden University. 
I have been married for several years, have two children of my own and I am privileged to be a step-parent to a daughter.  As a family, we very much enjoy outdoor activities. Most summer days, you can catch us at the pool or a baseball diamond.