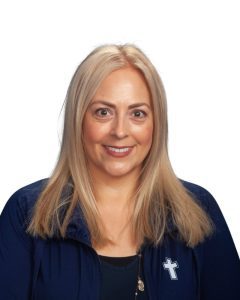 Cindy Kelly
I am the 6th grade homeroom teacher at St. Robert. I teach 6th-8th grade Social Studies, 6th-7th grade Reading, 6th grade Language, as well as various electives. Over the years, I have also taught Spanish, Economics, Life Skills, and Current Events.
I attended Eastern Michigan University and graduated from the University of Michigan-Flint with a B.S. in Education and have spent my entire teaching career at St. Robert.
While attending EMU, I met my husband Chris, and we have two children, Brooke and Christopher. We were so blessed to have both of our kids attend St. Robert and Powers Catholic High School. It has truly been a family of faith, and I've loved watching our school change and grow over the years.
Outside of school, I love traveling, spending time with my family, gardening, kayaking, reading, and snuggling with my fur baby, Frannie.