Our Office Staff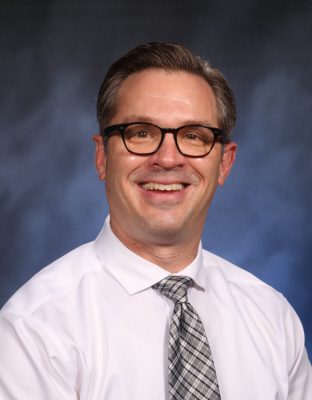 Matt Ralbusky
Principal
My name is Matt Ralbusky and I am truly privileged to serve as principal of St. Robert Catholic School.  I consider myself very fortunate to work in collaboration with an outstanding school community - rich in tradition and rooted on providing a well-rounded education centered on the teachings of Jesus Christ.
Prior to coming to St. Robert, I taught for eight years in Grand Blanc at the elementary level.  In addition, I served as Grand Blanc's Summer School Principal (grades K-8) for three years.  I also served as acting principal throughout the district, as well as held numerous leadership roles.
On a personal level, I grew up in Waterford Michigan and attended Waterford Mott High School.  After high school, I attended Saginaw Valley State University on a football scholarship.  I spent several years coaching high school sports and also had the opportunity to play professional football in Germany.  I received my Mater's degree from Wayne State University and an Education Specialist degree in School Administration from Oakland University.  My hobbies and interests include watching sports, working around the house, DIY projects, carpentry, golf, running and most importantly--spending time with my family.
I am happily married to my wife, Melanie.  Melanie taught for 15 years in Grand Blanc, 2 years in Hartland Schools, and now owns a successful classroom decorating business.  We have two children who are the absolute joy of our lives: Ava (12) and Eden (10).
What I love about St. Robert School is working alongside a deeply devoted faculty and staff who go above and beyond in forming our beloved students in the faith while ensuring high-level instruction that meets their individual needs.  Together, we provide the students of St. Robert Catholic School the best possible opportunities to ensure their future success as living Disciples of Christ and leaders of their generation.
My door is always open and I welcome your input.  Please feel free to stop in or call to make an appointment to discuss any concerns, suggestions, or ideas that you have.  Let's work in partnership to help make St. Robert School the best school it can be.
Read Bio
Our Teachers